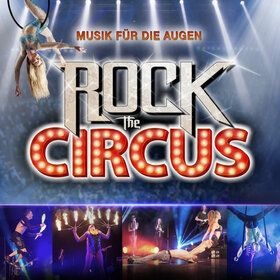 Musik für die Augen
Licht aus, Spot an und Manege frei: Rock the Circus lädt zu einer spektakulären Show ein, die Musik für die Augen bietet. Hier verschmelzen legendäre Rocksongs mit atemberaubender Artistik. Dieser faszinierende Drahtseilakt katapultiert den Zirkus auf die nächste Ebene!

Um ein derartiges Event zu realisieren, bedarf es eines Genies wie Stuart Glover. Der Sänger, Tänzer, Regisseur und Choreograph hat sich auf ausgefallene Theatershows spezialisiert. Mit Rock the Circus ist ihm nun ein echter Coup gelungen: Hits von Bands wie ACDC, Queen und Pink Floyd treffen auf akrobatische Höchstleistungen, die von international bekannten Akrobaten performt werden. Das Ergebnis ist ein Spektakel, das an Dramatik und Unterhaltung nicht zu überbieten ist. Obwohl hier ein Höhepunkt den nächsten jagt, müssen Sie keine Reizüberflutung fürchten. In dieser perfekt inszenierten Show gehen alle Elemente eine perfekte Symbiose ein und präsentieren sich dem Publikum als harmonisches Gesamtkunstwerk.

Rock the Circus ist ein absolutes Highlight der zirzensischen Unterhaltungskunst. Hier wird auf allerhöchstem Niveau geturnt und gerockt. Das sollten Sie sich auf keinen Fall entgehen lassen!
Source: Reservix